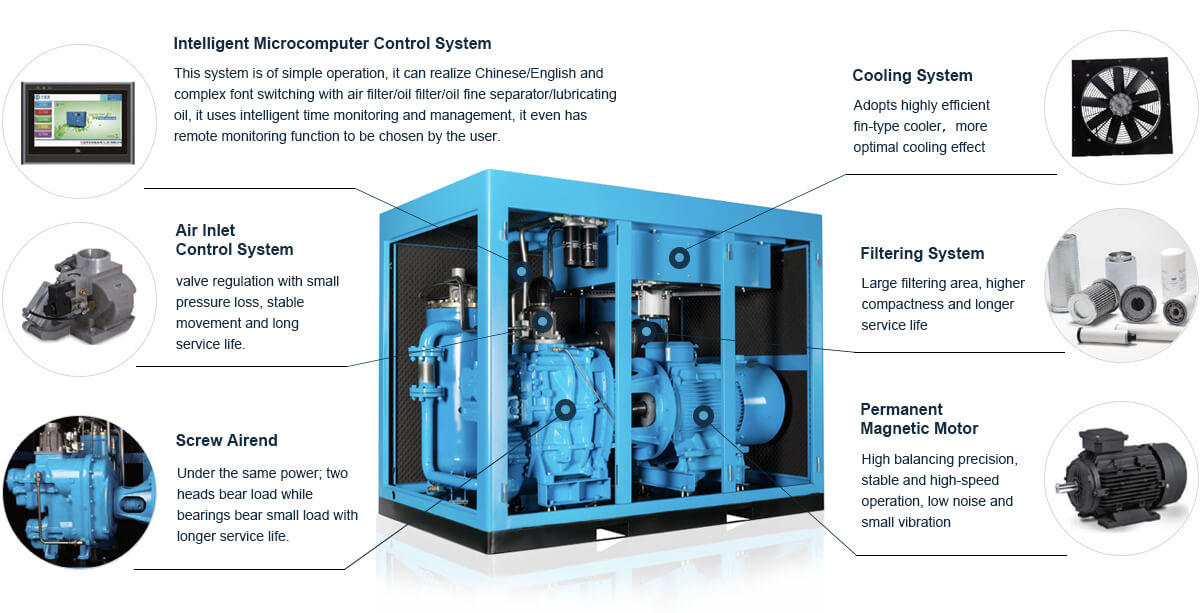 Highly eficiency and energy-saving screw airend
The air end is connected with big rotator and is designed with low rotating speed, and it contains two independent compression units. It is featured by high efficiency, low noise, low vibration, high reliability, low compression ratio in each stage, smaller leakage and high volume eficiency.Under the same power, two heads bear load while bearings bear small load with longer service life.
Highly efficient and energy-saving permanent magnetic motor
The air end is highly eficient and energy-saving permanent magnetic motor with protection level of IP55 which is elaborately selected according to requirement of application of air compressor, it reaches national grade-1 energy efficiency standard, both torque and load can meet special design standard so as to achieve optimization of motor efficiency and power factors under loading conditions. This optimized coefficient has about 5%-8% advantages when compared with efficiency of other motors.
Highly efficient and energy-saving filter system
Highly efficient oil-gas separator with special simplified design, aggregated separator core and oil return device, its service life is 6,000h. Oil fiter is of low-pressure design with service life reaching as long as 4,000h, and high filtering precision protects bearing and screw rotator.
Air filter doesn't need t change air flow direction when doing filtering,instead, it directly runs through filtering medium, this reducing pressure loss,it is more energy-saving than traditional air filter with large filtering area, higher compactness and longer service life.
Highly fficient cooling system
It adopts highly efficient fin-type cooler with large heat exchange area, surplus of heat exchange being 30% and more optimal cooling effect, and it can normally operate under environmental temperature 45℃.
Energy-saving air inlet control system
New-type integrated inlet valve of professional design with large range of air inlet adjustment . It has valve regulation with small pressure loss,stable movement and long service life. Key part of inlet valve-magnetic valve uses internationally famous brand,which guarantees absolute operating safety and economical control of screw compressor.
Intelligent microcomputer control system
This system is of simple operation, it can realize Chinese/English and complex font switching with air filter/oil filter/oil fine separator/lubricating oil, it uses intelligent time monitoring and management, it even has remote monitoring function to be chosen by the user.
List of ingress protection:
Ingress Protection
IP65
Dust tight.No ingress of dust.
Protected against jets of water.Limited ingress permitted.
IP54
Dust protected.Limited ingress of dust permitted.Will not interfere with operation of the equipment.
Protected against water splashes from all directions. Limited ingress permitted.
IP23
Protected against a solid object greater than 12.5mm such as a finger.
Protected against sprays of water up to 60 degrees from the vertical.Limited ingress permitted.