Details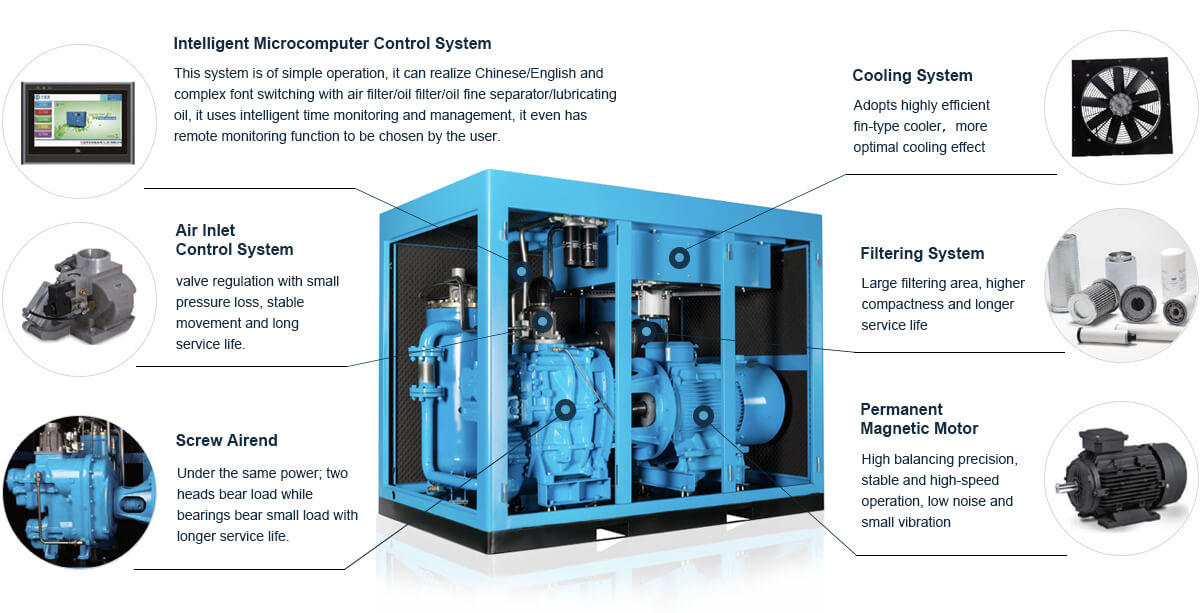 Low speed, big rotor
Direct driven larqe rotor, low speed host.High efficiency, low noise, low vibration and high reliability.It adopts cylinder and roller bearings triple design, with bearing life ≥ 100,000 hours.High-precision rotor guarantees high performance and reliability.
Stainless steel pipe
It is designed with the use of stainless steel pipe only, which has solid structure and high reliability, preventing the occurrence of rust in the pipeline effectively.
Coupling transmission
Motor aligns the rigid coupling of the host automatically, and adopts imported elastic coupling, damping vibrates at impact, to ensure that the transmission is totally effective, without energy loss.
Intelligent microcomputer control system
Operate easily, switch between Chinese and English, simplified Chinese character and the original complex form, air filter, oil filter, oil separator, lubricants, realize intelligent monitoring and management of time. Chain and remote monitoring functions are optional.
Electric control panel
Imported high-tech microcomputer controller adopts Schneider or Switzerland ABB original contactor, which has powerful fault diagnosis and protection functions: Default phase protection: when any one or two of the three-phase power breaks, it cut off the power automatically. Phase sequence protection: When there is an error of the phase sequence of the three-phase power, it can not be started. Over-temperature protection: when the exhaust gas temperature exceeds the set value, it cut off the power no-load automatically, to protect the no load state for several minutes, and then halts automatically. It starts automatically when the gas is required. Automatic unloading: unload first, and then halt, to avoid heavy-load start. Air volume regulation: automatic control of the gas displacement, saving energy.
Technical Parameters
WZS-
10AZ
15AZ
20AZ
25AZ
30AZ
50AZ
75AZ
100AZ
125AZ
Air flow/pressure (m³/min/Bar)
1.2/7.5
1.7/7.5
2.4/7.5
3.1/7.5
3.8/7.5
6.4/7.5
10.5/7.5
13.6/7.5
16.3/7.5
1.1/8.5
1.6/8.5
2.2/8.5
2.9/8.5
3.5/8.5
6.1/8.5
9.8/8.5
13.3/8.5
15.0/8.5
0.95/10.5
1.4/10.5
2.0/10.5
2.7/10.5
3.2/10.5
5.7/10.5
8.7/10.5
11.6/10.5
14.6/10.5
0.8/12.5
1.2/12.5
1.7/12.5
2.2/12.5
2.9/12.5
5.1/12.5
7.5/12.5
9.8/12.5
12.3/12.5
Motor
Power (kw)
7.5
11
15
18.5
22
37
55
75
90
Horse power (HP)
10
15
20
25
30
50
75
100
125
Dimension
Length(mm)
1000
1040
1040
1100
1400
1600
2050
2050
2150
Width (mm)
600
800
800
850
850
1000
1200
1200
1300
Height (mm)
1000
1180
1180
1300
1150
1370
1500
1500
1700
Noise dB(A)
66±2
70±2
70±2
70±2
71±2
74±2
74±2
75±2
75±2
Outlet diameter
G3/4
G3/4
G3/4
G11/4
G11/4
G11/2
G2
G2
G2
Weight (kg)
240
400
410
590
620
840
1735
1850
1920
WZS-
150AZ/W
180AZ/W
220AZ/W
250AZ/W
300AZ/W
340AZ/W
400AZ/W
480AZ/W
540AZ/W
Air flow/pressure (m³/min/Bar)
20.3/7.5
24.0/7.5
27.0/7.5
32.5/7.5
40.0/7.5
43.5/7.5
50.8/7.5
60.0/7.5
72.0/7.5
19.0/8.5
23.0/8.5
26.5/8.5
31.0/8.5
36.8/8.5
42.0/8.5
48.2/8.5
57.0/8.5
68.0/8.5
17.0/10.5
20.0/10.5
22.5/10.5
28.0/10.5
32.2/10.5
38.8/10.5
42.6/10.5
50.0/10.5
60.5/10.5
14.6/12.5
18.0/12.5
20.1/12.5
25.1/12.5
28.5/12.5
34.6/12.5
39.8/12.5
45.0/12.5
50.5/12.5
Motor
Power (kw)
110
132
160
185
220
250
300
350
400
Horse power (HP)
150
180
220
250
300
340
400
480
540
Dimension
Length(mm)
2800
2800
2800
2800
2900
2900
4200
4200
4200
Width (mm)
1650
1650
1650
1650
1860
1860
2200
2200
2200
Height (mm)
1850
1850
1850
1850
2000
2000
2150
2150
2150
Noise dB(A)
75±2
75±2
75±2
78±2
78±2
78±2
80±2
82±2
83±2
Outlet diameter
DN65
DN65
DN80
DN80
DN100
DN100
DN125
DN125
DN150
Weight (kg)
3030
3130
3210
3470
4500
4600
7000
7500
8100
Aapplication
Mining Industry
Shipping and Offshore
Bottle Blowing Industry
Bottle Blowing Industry
Electronic Product
Case




Enquire
Leave your needs, we will contact you in the first time