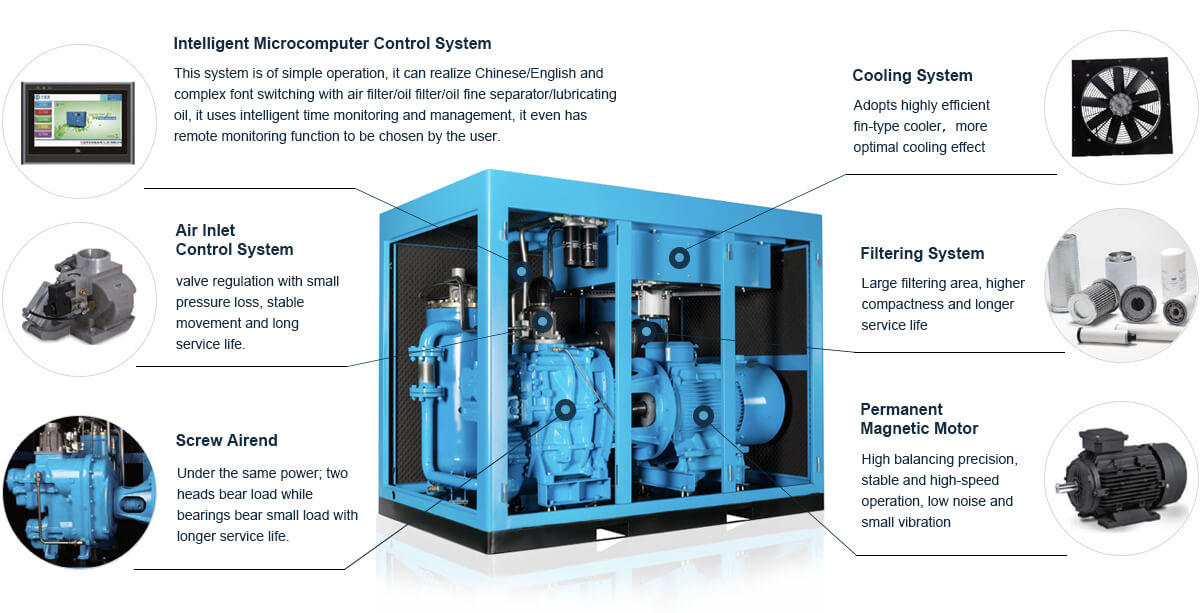 Host and motor transmission architecture
Adopts 1:1 direct link design, screw host engine and motor have low center of gravity, reduce the noise source and vibration source, and enhance the stability of the unit Direct-link efficient screw unit meets the demand of efficient air compressor station room, outstanding stainless steel pipeline design and humanized low center of gravity and damping design. All those are conveying the principle of Wan Beardsley, namely the pursuit of the best.
Low speed, big rotor
Direct driven larqe rotor, low speed host.
High efficiency, low noise, low vibration and high reliability.
It adopts cylinder and roller bearings triple design, with bearing life ≥ 100,000 hours.
High-precision rotor guarantees high performance and reliability.
Stainless steel pipe
It is designed with the use of stainless steel pipe only, which has solid structure and high reliability, preventing the occurrence of rust in the pipeline effectively.
Coupling transmission
Motor aligns the rigid coupling of the host automatically, and adopts imported elastic coupling, damping vibrates at impact, to ensure that the transmission is totally effective, without energy loss.
Intelligent microcomputer control system
Operate easily, switch between Chinese and English, simplified Chinese character and the original complex form, air filter, oil filter, oil separator, lubricants, realize intelligent monitoring and management of time. Chain and remote monitoring functions are optional.
Electric control panel
Imported high-tech microcomputer controller adopts Schneider or Switzerland ABB original contactor, which has powerful fault diagnosis and protection functions:
Default phase protection: when any one or two of the three-phase power breaks, it cut off the power automatically.
Phase sequence protection: When there is an error of the phase sequence of the three-phase power, it can not be started.
Over-temperature protection: when the exhaust gas temperature exceeds the set value, it cut off the power no-load automatically, to protect the no load state for several minutes, and then halts automatically. It starts automatically when the gas is required.
Automatic unloading: unload first, and then halt, to avoid heavy-load start.
Air volume regulation: automatic control of the gas displacement, saving energy.
Pressure maintenance valve
It adopts aluminum materials, with outstanding rust-proof performance. It has non-retum function. Stable opening pressure setting, to ensure that sufficient cycle pressure is built in the system first to ensure body lubrication.
Integral intake valve
It is designed with normally closed piston structure, which shut down quickly to prevent the lubricant spray, and ensure low load start, reduce power consumption.
List of ingress protection:
Ingress Protection
IP65
Dust tight.No ingress of dust.
Protected against jets of water.Limited ingress permitted.
IP54
Dust protected.Limited ingress of dust permitted.Will not interfere with operation of the equipment.
Protected against water splashes from all directions. Limited ingress permitted.
IP23
Protected against a solid object greater than 12.5mm such as a finger.
Protected against sprays of water up to 60 degrees from the vertical.Limited ingress permitted.